2023 Humanities Aronui Medal
Dr Vincent O'Malley has been awarded the Humanities Aronui Medal for his contribution to the research, knowledge, and public understanding of New Zealand history, particularly of the New Zealand Wars and Māori-Pākehā relations throughout the nineteenth century.

Dr Vincent O'Malley has been at the forefront of efforts to ensure New Zealanders take ownership of their history.
He was prominent in the push to have New Zealand history taught in all schools, supporting the campaign started by Ōtorohanga College students in 2014.
His public engagement is backed by his scholarship, including several books on the New Zealand Wars.
Vincent's current research includes a Marsden research project, co-led with Professor Joanna Kidman, tracing shifting historical perspectives of the New Zealand Wars.
Vincent's internationally acknowledged work has transformed how everyday New Zealanders interact with their past.
A nominator says his work on the New Zealand Wars has taken richly detailed primary research out into the world, making a major contribution to public awareness and understanding of these conflicts.
"Commitment to public communication has underpinned Dr O'Malley's work on the New Zealand Wars. Dozens of talks have been delivered since 2016, spanning schools, museums, regional settings, and online festivals."
They add that Vincent's role in enhancing public understanding of this history is widely acknowledged in the Māori world, demonstrated by appearances with speakers such as Dr Tom Roa and Mihingarangi Forbes.
Vincent's work is now culminating in publications, talks, and further research that is transforming awareness of our nation's past.
His project, 'He Taonga te Wareware? Remembering and Forgetting Difficult Histories in Aotearoa/New Zealand', co-led with Professor Joanna Kidman, promises to facilitate new understandings of New Zealand's past.
As an independent historian, Vincent has completed research for iwi and hapū, the Waitangi Tribunal and other parties in the Treaty claims process.
Showing the esteem these relationships are held in, Vincent was invited to present the first copy of The Great War for New Zealand to King Tūheitia at the Waahi Poukai.
A nomination supporter says Vincent's historical research and publication, especially on the New Zealand Wars, but also more broadly upon the interaction of Māori and Pākehā across the critical years when the balance of authority and control in New Zealand passed from the former to the latter, "constitutes a remarkable body of work that deserves recognition at the highest level".
They add that the launch for his book, The Great War for New Zealand, at Te Papa in 2016 drew a crowd of iwi leaders, cabinet members, and former prime ministers who all spoke of the great need for such a work.
"But more importantly, the entire marae and beyond was packed out with people, a large proportion of them Māori, who had just come in from the street.
"I have never seen such a crowd or such emotional enthusiasm at a book launch and it was clear, right then, that Vincent had touched a chord in the public psyche."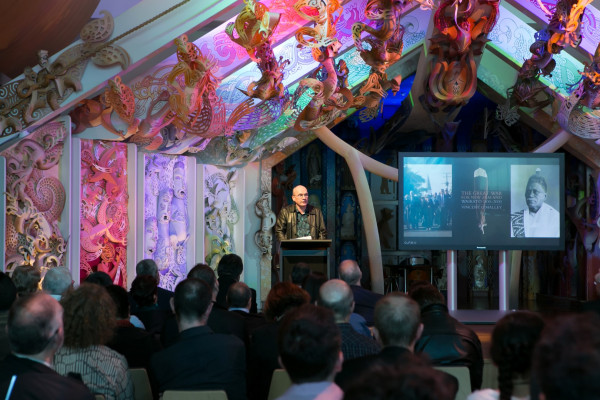 They say that people want to know New Zealand history, and they feel cheated by what they learnt at school – they are eager to read history written from all sides. This is what Vincent has provided.
Vincent says the prime motivation for his work is the belief that New Zealanders need to engage with the history of their own country in an upfront and honest way.
"We need to understand where we have come from if we are trying to work out the path ahead."
He is grateful to those who nominated him for this prestigious award and everyone who has supported his work as a professional historian stretching over more than three decades.
Humanities Aronui Medal:
Awarded for research or innovative work of outstanding merit in the Humanities.
Citation:
To Vincent Michael O'Malley for research and understanding of New Zealand history, particularly knowledge of the New Zealand Wars and the history of nineteenth-century Māori and Pākehā relations.